Montreal, Quebec – January 18, 2017 Sama Resources Inc. ("Sama" or the "Company") (TSX-V: SME) announces that the Company has delineated two very strong conductors at the Samapleu and Grata properties using down-hole geophysical surveys ("DHTEM") in Ivory Coast, West-Africa.
The geophysical testing was completed on December 19, 2016 by Abitibi Geophysics of Val D'Or, Canada and tested the 620 meter ("m") SM34-564718 drill hole at the Samapleu main deposit and the recently drilled 342 m GR72-787708 drill hole at the Grata property.
The company's exploration objective is to delineate massive sulphide reservoirs that could be the source of high grade nickel ("Ni") copper ("Cu") palladium ("Pd") lenses intercepted in shallower drill holes at the Samapleu deposits.
At Samapleu, drill hole SM34-564718 tested a pipe-like intrusion at depth and intercepted more than 200 meters of ultramafic layers with disseminated sulphide (420 m – 620 m) and terminated within the ultramafic complex. The drill hole is located 150m from another hole (SM44-693140b) which intercepted 91 m of ultramafic sequence (with mineralization up to 6.55% Cu) and included 3.4 m of 1.12% Ni, 0.50% Cu and 1.61gpt Pd (intercepted at the bottom of the drill hole which suggested that the mineralization may continue at depth).
The DHTEM at SM34-564718 suggests the presence of two high intensity conductors (refer to table below).
The Grata Permit is located adjacent to the north-eastern boundary of the Samapleu exploration permit (PR 123). Sama believes that ultramafic sequences of the recently outlined large Yacouba Layered Complex which hosts the Samapleu nickel-copper-palladium deposits, are extending within the Grata Permit and as such represent a prime target for nickel-copper-palladium mineralization. The drill hole GR72-787708 terminated at 342 m and intersected the Yacouba complex sequence including fractured pyroxenite and gabbro with sulphide mineralization as fractures filling between 180 and 187 meters.
The DHTEM at GR72-787708 suggests the presence of a high intensity off-hole conductor just below the drill hole (refer to table below).
The Table below summarizes the DHTEM results and conductors outlined.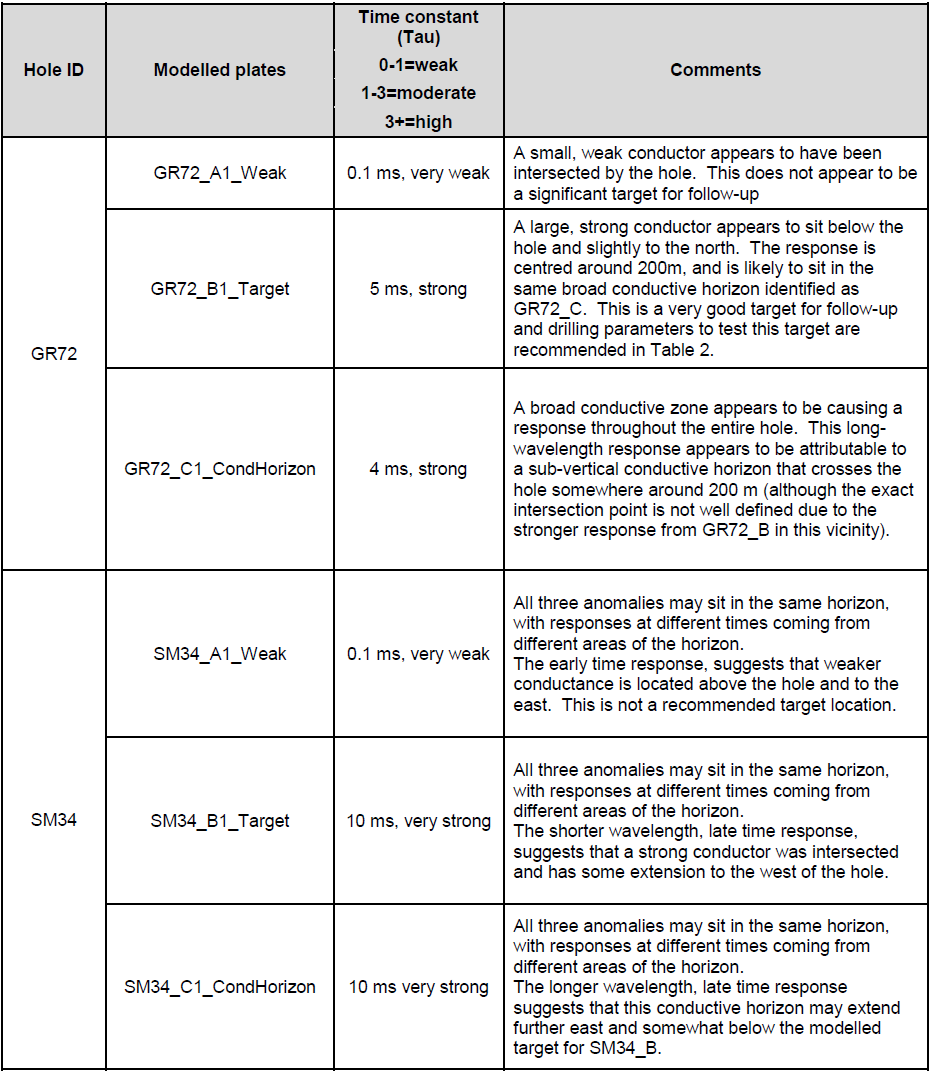 These rare Pipe Like intrusions host the world's largest nickel-copper deposits like Jinchuan, 515 million tonnes ("Mt") at 1.06% nickel; Voisey Bay, 137Mt at 1.68% nickel; Kabanga, 52Mt at 2.65% nickel; Eagle, 4.5Mt at 3.33% nickel; Eagle Nest, 20Mt at 1.68% nickel; Kalatongke, 24Mt at 0.68% nickel and N'komati 2.8Mt at 2.08% nickel.
The technical information in this release has been reviewed and approved by Dr. Marc-Antoine Audet, P.Geo and President and CEO of Sama, and a 'qualified person', as defined by National Instrument 43-101, Standards of Disclosure for Mineral Projects.
Stock Options Granted
The Company is pleased to announce that, pursuant to its Stock Option Plan and subject to regulatory acceptance, it has granted an aggregate total of 1,875,000 incentive stock options to certain directors, officers, employees and consultants of the Company, subject to certain vesting provisions.  These options will be exercisable at a price of $0.085 per common share and will expire on January 17, 2027.
Sama is a Canadian‑based mineral exploration and development company with projects in West Africa.  For more information about Sama, please visit Sama's website at
FOR FURTHER INFORMATION, PLEASE CONTACT:
SAMA RESOURCES INC./RESSOURCES SAMA INC.
Dr. Marc-Antoine Audet, President and CEO
Tel:  (514) 726-4158
OR
Mr. Matt Johnston, Corporate Development Advisor
Tel:  (604) 443-3835
Toll Free:  1 (877) 792-6688, Ext. 5
Neither the TSX Venture Exchange nor its Regulation Services Provider (as that term is defined in the policies of the TSX Venture Exchange) accepts responsibility for the adequacy or accuracy of this release.
Forward-Looking Statements Certain of the statements made and information contained herein are "forward-looking statements" within the meaning of Canadian securities legislation or "forward-looking information" within the meaning of the Ontario Securities Act and the Securities Act (British Columbia).  This includes statements concerning the Company's plans at its mineral properties, which involve known and unknown risks, uncertainties and other factors which may cause the actual results, performance or achievements of the Company, or industry results, to vary or be materially different from any future results, performance or achievements expressed or implied by such forward-looking statements or forward-looking information.  Information regarding drilling results may also be deemed to be forward-looking statements or forward-looking information in that they reflect a prediction of what may be found to be present when and if a project is actually developed.
Forward-looking statements and forward-looking information are subject to a variety of risks and uncertainties which could cause actual events or results to differ from those reflected in the forward-looking statements or forward-looking information, including, without limitation, the availability of financing for activities, risks and uncertainties relating to the interpretation of drill results and the estimation of mineral resources and reserves, the geology, grade and continuity of mineral deposits, the possibility that future exploration, development or mining results will not be consistent with the Company's expectations, metal price fluctuations, environmental and regulatory requirements, availability of permits, escalating costs of remediation and mitigation, risk of title loss, the effects of accidents,