Montreal, Quebec, June 18th, 2018 – Sama Resources Inc. (TSXV: SME) ("SME" or the "Company") today reports that SRG Graphite Inc. ("SRG") has announced an updated resource estimate for their Lola graphite deposit located in the Republic of Guinea (the "2018 Mineral Resource Estimate"). The 2018 Mineral Resource Estimate represents an increase of 54% of In-situ Graphitic Carbon ('Cg') at a 3% cut-off grade since the publication of the maiden resource. In preparation for the next phase of development of the project, several boreholes were completed to increase measured and indicated resources from inferred resources. As such, measured and indicated resources increased from 224,118t to 676,900t of Cg content at a 3% cut-off-grade, an increase of 201%.
The 2018 Mineral Resource Estimate, prepared by Montreal-based Met-Chem, a division of DRA Americas Inc. ("Met-Chem/DRA"), includes a pit-constrained measured and indicated resource of 12.2 million tonnes ("Mt") grading 5.6% Cg and an inferred resource of 2.1 Mt grading 6.1% Cg, using a cut-off grade of 3.0% Cg. Effective date of the estimate is June 14, 2018.
The 2018 Mineral Resource Estimate replaces the maiden mineral resource estimate which was reported by SRG on December 22, 2017, and subsequently included in a Technical Report completed by Met-Chem/DRA with an effective date of September 30, 2017. A NI 43-101 Technical Report will be filed on SEDAR within 45 days of this news release providing the details of this resource update. Figure 1 provides a map of the current drilling program. Completed boreholes, assay results pending and boreholes to be completed can be viewed on the map.
Resource Summary
The mineral resources are based on 395 boreholes for 12,086 meters ("m") drilled up to April 4, 2018. Since that time, an additional 162 diamond drill holes have been completed, for approximately 5,686 additional meters for a total of 17,954 meters. Assay results for these additional holes are pending. Drilling onsite is ongoing and an additional 3,000 meters of drilling are scheduled to take place in the second half of 2018.
The updated resource is established for the oxide profile of the deposit, from surface to a depth ranging between 20 and 50 meters, with an average thickness of 32 meters. The mineralization continues at depth within the fresh rock material, but drilling is stopped once fresh rock is reached. The area for the resources covers approximately 33% of the deposit's 3.2-square-kilometer surface area.
The estimate was prepared using a block model constrained with 3D wireframes of the principal mineralized domains. Values for graphitic carbon were interpolated using Ordinary Kriging (OK) interpolation methodologies on 10 × 10 × 2m blocks.  As in the previous resource estimate, a preliminary open pit optimization algorithm was run on the estimated grade block model. Only mineralization contained within the preliminary pit shell has been included in the resource estimate. The base case mineral resource estimate is summarized in the following table at a cut-off grade of 3.0% Cg together with estimate sensitivities at 1.64% Cg and 5.0% Cg.
Table 1: SRG's Lola Graphite Project Mineral Resources at a cut-off grade of 3.0% Cg and sensitivities at 1.64%Cg and 5.0% Cg cut-off grades
Base case Mineral Resources
Cut-off grade
Classification
Tonnes
Cg
In situ Cg
Cg %
Mt
%
t
3%
Measured
1.40
5.32
74,700
Indicated
10.79
5.58
602,200
Total M&I
12.20
5.55
676,900
Inferred
2.06
6.07
125,200
Sensitivities
Cut-off grade
Classification
Tonnes
Cg
In situ Cg
Cg %
Mt
%
t
1.64%
Measured
2.13
4.31
91,900
Indicated
17.00
4.39
746,400
Total M&I
19.14
4.38
838,400
Inferred
2.82
5.07
143,000
Cut-off grade
Classification
Tonnes
Cg
In situ Cg
Cg %
Mt
%
t
5%
Measured
0.60
7.14
42,700
Indicated
5.02
7.46
374,800
Total M&I
5.62
7.43
417,500
Inferred
1.18
7.54
88,700
Notes:
1) CIM definitions (May 10, 2014) observed for classification of mineral resources.
2) Block bulk density interpolated from specific gravity measurements taken from core samples.
3) Resources are constrained by a Lersch Grossman (LG) optimized pit shell using MineSight software.
4) Pit shell defined using 30-degree pit slope, $1,300/t of concentrate (94.6% Cg grade, 79.25% Cg plant recovery), $2.00/t mining costs, $10.00/t processing costs, and $3.50/t G&A and $175/t of concentrate for transportation costs.
5) Mineral resources are not mineral reserves and have no demonstrated economic viability. The estimate of mineral resources may be materially affected by mining, processing, metallurgical, infrastructure, economic, marketing, legal, environmental, social and governmental factors ("Modifying Factors").
6) Numbers may not add due to rounding.
7) Effective Date of Resource estimate is June 14th, 2018.
Figure 1: Map of deposit with depicted drilling program and resource classification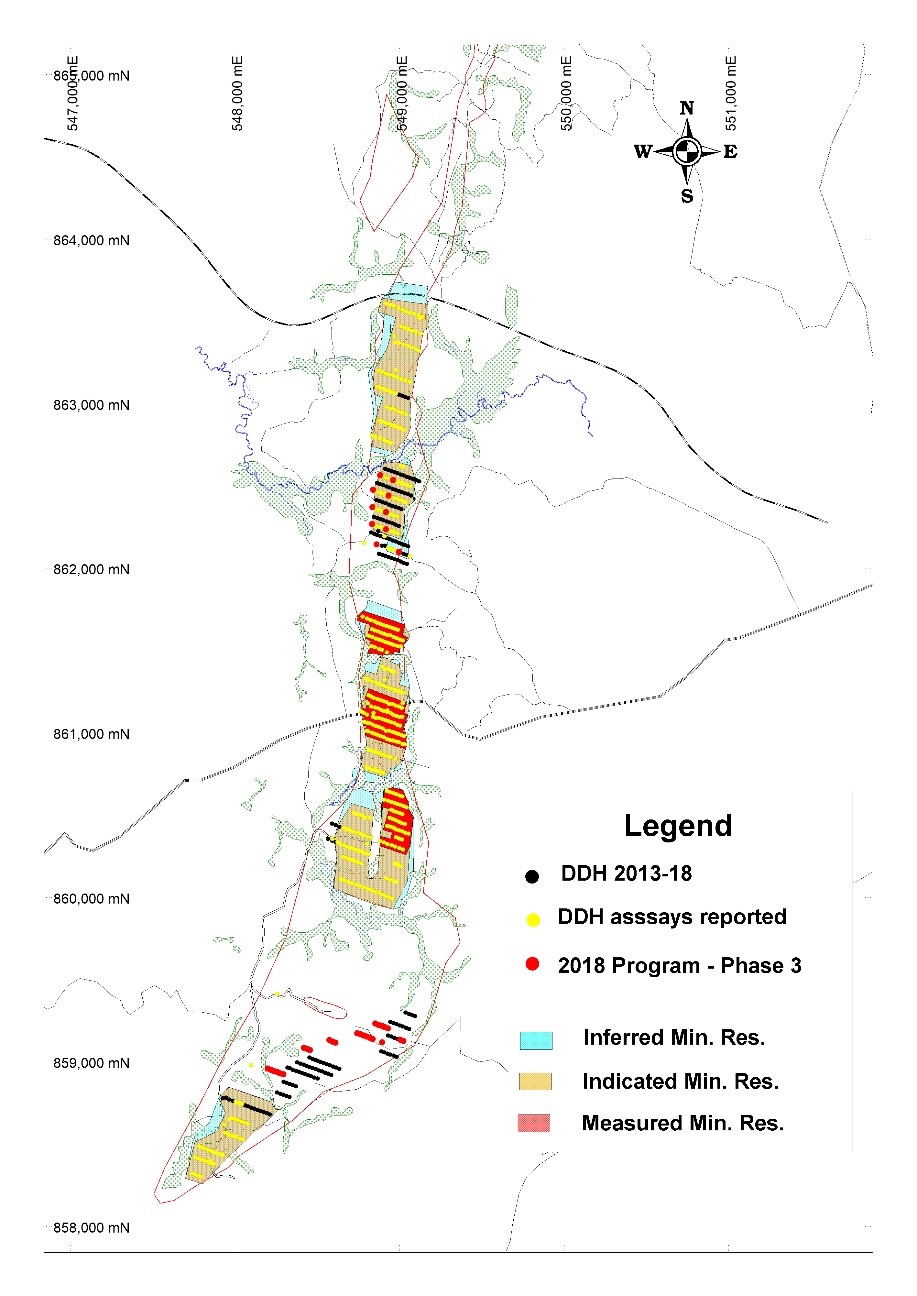 About Sama Resources Inc.
Sama is a Canadian-based mineral exploration and development company with projects in West Africa.
Sama holds a control position in SRG of 24,658,267 shares representing 35.70% of the issued and outstanding shares of SRG and is considered an insider for reporting purposes.For more information about Sama, please visit Sama's website at http://www.samaresources.com.
FOR FURTHER INFORMATION, PLEASE CONTACT:
SAMA RESOURCES INC./RESSOURCES SAMA INC.
Dr. Marc-Antoine Audet, President and CEO
Tel: (514) 726-4158
OR
Mr. Matt Johnston, Corporate Development Advisor
Tel: (604) 443-3835
Toll Free: 1 (877) 792-6688, Ext. 5
Neither the TSXV nor its Regulation Services Provider (as that term is defined in the policies of the TSXV) accepts responsibility for the adequacy or accuracy of this release.
FORWARD LOOKING STATEMENTS
Certain of the statements made and information contained herein are "forward-looking statements" or "forward-looking information" within the meaning of Canadian securities legislation.   Forward-looking statements and forward-looking information are subject to a variety of risks and uncertainties, which could cause actual events or results to differ from those reflected in the forward-looking statements or forward-looking information, including, without limitation, the availability of financing for activities, risks and uncertainties relating to the interpretation of electrochemical characterization, drill results and the estimation of mineral resources and reserves, the geology, grade and continuity of mineral deposits, the possibility that future exploration, development or mining results will not be consistent with the Company's expectations, metal price fluctuations, environmental and regulatory requirements, availability of permits, escalating costs of remediation and mitigation, risk of title loss, the effects of accidents, equipment breakdowns, labour disputes or other unanticipated difficulties with or interruptions in exploration or development, the potential for delays in exploration or development activities, the inherent uncertainty of cost estimates and the potential for unexpected costs and expenses, commodity price fluctuations, currency fluctuations, expectations and beliefs of management and other risks and uncertainties.
In addition, forward-looking statements and forward-looking information are based on various assumptions.  Should one or more of these risks and uncertainties materialize, or should underlying assumptions prove incorrect, actual results may vary materially from those described in forward-looking information or forward-looking statements.  Accordingly, readers are advised not to place undue reliance on forward-looking statements or forward-looking information.  Except as required under applicable securities legislation, the Company undertakes no obligation to publicly update or revise forward-looking statements or forward-looking information, whether as a result of new information, future events or otherwise.