Shareholders
Notice of the 2022 Annual General Meeting ("Notice of Meeting") of holders of common shares (the "Shareholders") of Sama Resources Inc./Ressources Sama Inc. (the "Corporation" or "Company") scheduled to be held  in the Boardroom at Suite 132, 1320 Graham, Ville Mont-Royal, Quebec, Canada H3P 3C8 on Thursday June 09, 2022 at 1:00 p.m. EDT  (the "Meeting").
Due to the current health pandemic and social distancing rules and measures applicable within the Province of Quebec, the Corporation is discouraging shareholders from physically attending the meeting for the sole purpose of engaging with management and the Board and has set up an alternative measure for them do so. More specifically, THE COMPANY IS also allowing shareholders to participate for informational purposes only to the meeting BY A WEBCAST DUE TO THE COVID-19 PANDEMIC AND GOVERNMENT ORDERS TO MAINTAIN SOCIAL DISTANCING.  NO VOTES WILL BE ACCEPTED AT THE WEBCAST MEETING and presence through the webcast medium will not, by itself without a proxy having been returned as described herein, be counted for the purposes of quorum or voting.  IT IS therefore HIGHLY RECOMMENDED THAT SHAREHOLDERS WHO WISH TO ENSURE THAT THEIR COMMON SHARES WILL BE VOTED, MUST COMPLETE, DATE AND EXECUTE THE ENCLOSED FORM OF PROXY, OR ANOTHER SUITABLE FORM OF PROXY, AND DELIVER IT BY HAND, BY MAIL OR BY FAX IN ACCORDANCE WITH THE INSTRUCTIONS SET OUT IN THE FORM OF PROXY AND IN THE CIRCULAR.  FOR GREATER CLARITY, PROXIES NEED TO BE RECEIVED BY THE COMPANY BEFORE THE PROXY-CUT OFF DATE OF 1:00 P.M., MONTREAL TIME, ON TUESDAY, JUNE 07, 2022.
In order to dial into the Webcast associated to the Meeting, shareholders may phone the number that applies to your location below and enter the Meeting ID and Password noted below.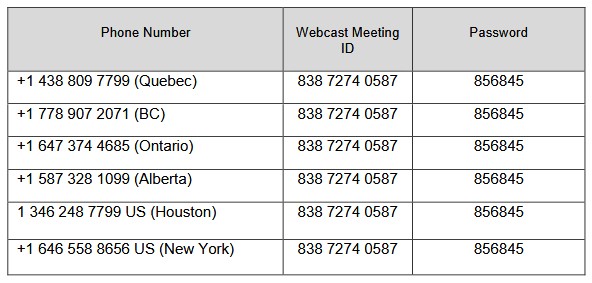 International numbers available: https://zoom.us/u/aqJfUFFNb
In order to access the Meeting through Zoom, shareholders will need to download the application onto their computer or smartphone and then once the application is loaded, enter the Meeting ID and Password below or open the following link 
https://zoom.us/j/94346149029?pwd=K1hFcHlJNXBBcXJ4NVlnZWpqNGdKZz09.
Shareholders will have the
option through the application to join the video and audio or simply view and listen Meeting ID: 838 7274 0587
Password 856845


Meeting Materials:
Notice of Annual General Meeting – June 09, 2022
Management Information Circular